Need a coffee break? – Places to visit in the break between your classes
Having troubles with making the most of your break between two classes? You don't want to stay at the Uni, but would rather go somewhere either with your friends, or even alone? Let us, here at the PécsiBölcsész Magazine help you! We put together a list of restaurants and cafés that are close to the campus and worth a visit any time you're free.
When composing the list, we considered several different aspects. It was important to us, that our readers can decide if a catering unit is worth a visit based on how affordable it is; however, we also paid attention to the location of the diners and cafeterias: only those made it to the list, that are close enough to campus. Furthermore, it was a decisive factor whether the place has an outdoor space or not.
1. Café Paulus – 'Paulus is the master of metamorphosis. It can be a café in the morning, a diner at lunchtime and a bar in
the evening.'
The name of Café Paulus must be familiar to all of the students of the Faculty of Humanities and Social Sciences, as it is right next to building B of the campus. In fact, there is probably no student of this faculty who hasn't visited it. This place welcomes you with fresh and diverse menus every day, but you can also order many other meals á la carte. Those looking for a good coffee could also enjoy it, as here we can taste a real Italian coffee, rich in the Pascucci-aroma.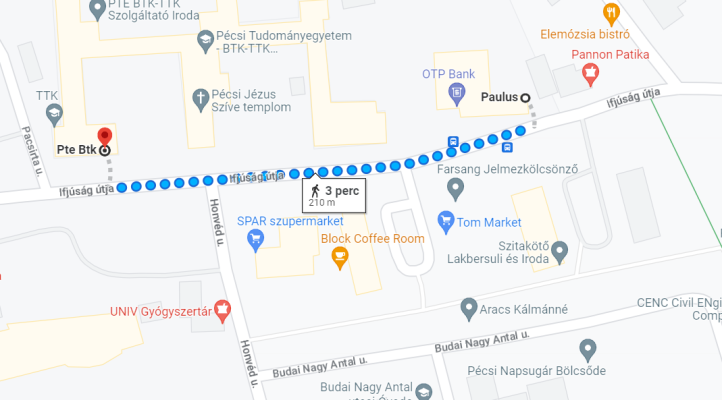 Price: $$$
Outdoor space, terrace: Yes
2. Rokusch – 'We wish to provide a high-level gastronomic experience to our guests at an affordable price.'
Rokusch is a café, really close to our faculty, with quite high standards. They welcome their guests at the heart of the university area with Cracker Jack roasted coffee specialties, handcrafted sandwiches that are made locally and dessert masterpieces. Moreover, in 2019, they won the price for the best catering unit of the city, thus it is definitely worth visiting if you are looking for something exceptional.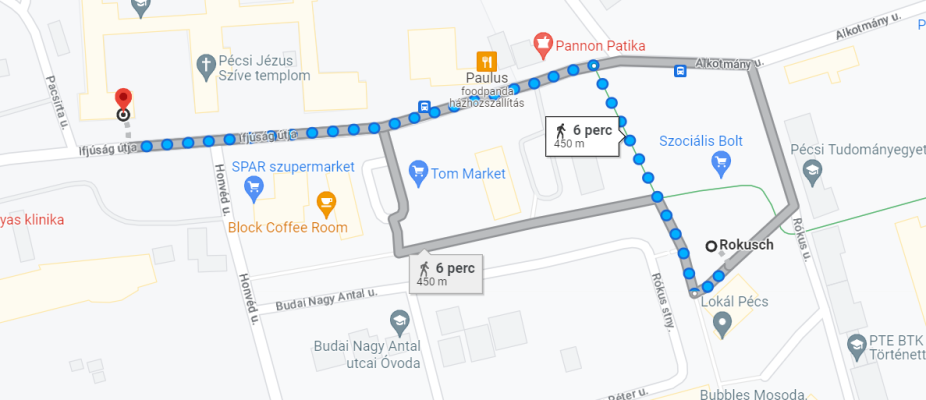 Price: $$$
Outdoor space, terrace: Yes
3. Block Coffee Room – 'It has been our dream for a long time now, to open a small café where we can share our passion for coffee with others.'
Block Coffee Room has opened in 2015 in the proximity of the Faculty of Humanities and Social Sciences. It's a small but rather cozy new wave specialty café, where they serve our coffees with real expertise, while they also welcome their guests with a great variety of cakes. They have been using Bean on roast from the very beginning, which is quite rare in Hungary – besides them, it can only be found at the Barber Café in Szeged. The Block Coffee Room organizes events as well, one of their recurring program is Tales around the cup – live tales and Chinese tea tasting.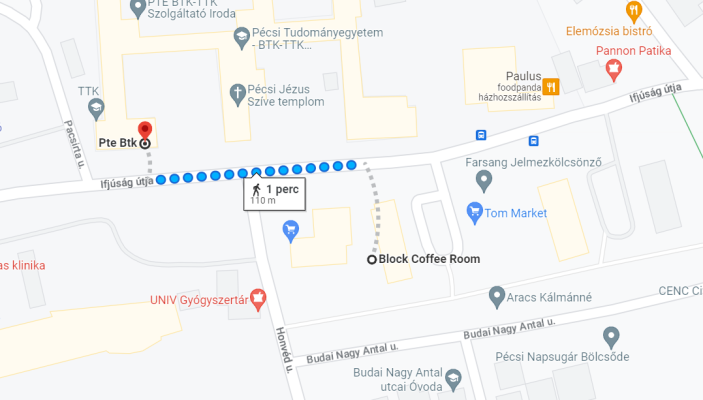 Price: $
Outdoor space, terrace: Yes
4. Xavér Restaurant – 'Plentiful choices, rapid service, professional staff, Hungarian cuisine.'
The Xavér Bar and Restaurant is a bit further from our campus, but it can be reached within 10 minutes on foot. They offer a wide variety of meals and advertise their daily menus ahead for the entire week. Indoors they have a huge space, that can welcome several guests, thus they can also manage the organization of special events.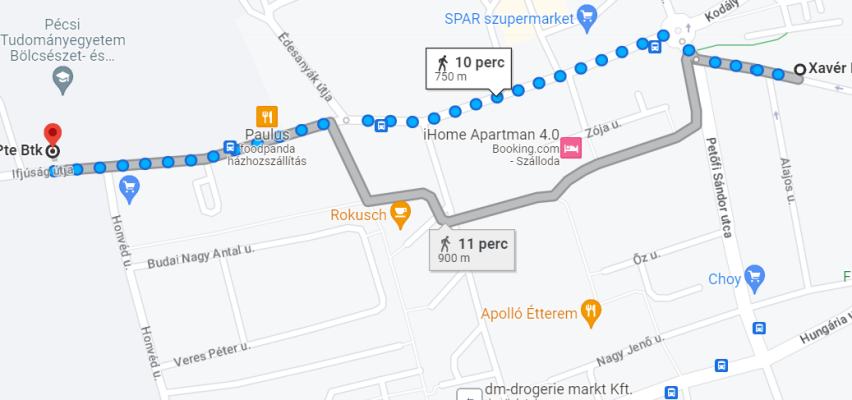 Price: $$
Outdoor space, terrace: Yes
5. Room Bistro – 'Daily menus made with quality ingredients; special, healthy, premium daily offers.'
The last piece on this list is rather for the students of the Communication and Media Science program, as the Room Bistro&Club is situated in the Zsolnay Cultural Quarter. This place is similar to a school catering unit, but absolutely in a positive sense. They welcome their guests with varied daily menus, let that be normal or paleo diet. The bistro has a large indoor space, with a high ceiling; their employees are kind and helpful. Coffee-lovers will also enjoy this place, as they also serve the Italian roast, Pascucci coffee, at a reasonable price.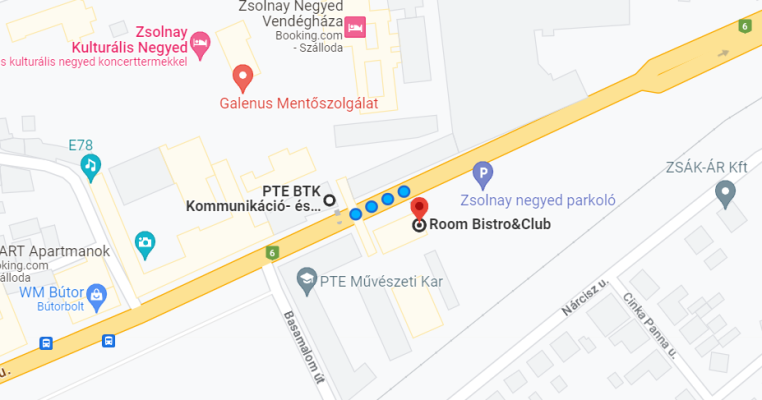 Price: $$
Outdoor space, terrace: Yes
Translated by Tímea Varga
---