PécsiBölcsész: Why did you choose International studies as your major?

Ádám Kibédi-Varga: I was always interested in this field, because I had many international friends at high school, and I thoroughly enjoyed their company. I was also interested in history.
However, I chose international studies mostly because I wanted to understand how the world works and this major seemed to be a great opportunity for that.
We are learning about many disciplines, and I think this multidisciplinary approach will lead us to a better understanding of our world.
PB: Have you ever participated in any international mobility program, and if not, are you planning to?
ÁKV: Yes, I have been planning to, but I have not had the opportunity because of the pandemic. However, I spent a semester abroad during my high school years, and travelled a lot because of sports. I made many international friends during this time.
I think these experiences added a lot to the way I think.
PB: Can you tell us some of your motives? Why did you accept the role of Foreign Affairs Officer?
ÁKV: I didn't choose the role, rather the role chose me, if I can say that. The president of HÖK offered me the opportunity, however, I took this work because of personal experiences.
Earlier, as a student representative, I realized that there is a gap between the Hungarian and the international students, and I wanted to do something to change this.
The position of Foreign Affairs Officer provides me way more opportunities to bring closer both Hungarian and foreign students from the university.
PB: As a Foreign Affairs Officer what kind of obligations do you have? 
ÁKV: For this academic year we defined my tasks in mind with three aspects. First of all, we would like to open the Student Hub. Student Hub is an office to support international students during their studies at the University of Pécs.
In connection with this, we would like to build social media platforms on Facebook and Instagram to make the flow of information manageable.
Also, through these social media pages international students can reach the members of Student Hub easily. Our third project is a complex task. At first, we would like to build community between the international students, because I noticed that they don't even realize the opportuities they have access to and then we would like to bridge the gap between the Hungarian and the international students as a next step.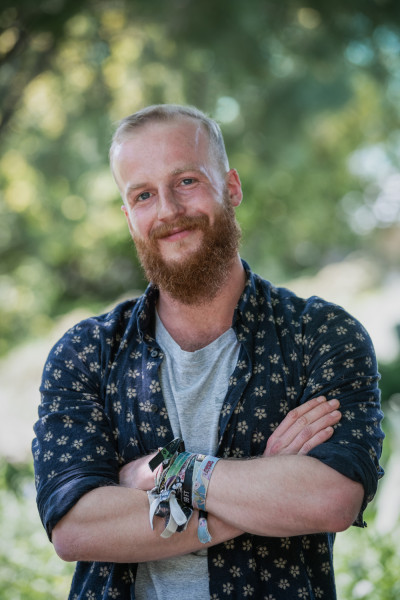 Photo by: Johanna Bertalan
PB: How do your studies connect to your tasks as a Foreign Affairs Officer? Do you see any connection in between?
ÁKV: Absolutely!
If you are studying International Relations, after a certain point you must let the European way of thinking go and understand different views and perspectives from all around the world.
In this way, you will understand the world way better. As a Foreign Affairs Officer, you must have the same mentality.
PB: What are your expectations as a Foreign Affairs Officer?
ÁKV: It is hard to describe, mainly I have expectations toward myself. I would like the entire system to work as I imagined and planned. Obviously, there will be things that would work differently in practice, and I am pretty sure that there will be problems that would require solutions on the scene.
But still, my expectations lie in the changes that I want to implement.
PB: What kind of challenges do you think you will face, and what kind of personal improvement comes with your new job?
ÁKV: I think the biggest challenge is going to be time management. My tasks require active and passive work hours as well. Active is when we advertise an application for the office and hold interviews for example. Passive is when I attend international events such as hiking or barbecuing.
Another challenge of course is expectations vs. reality, we have an idea of how a community should be built, but there is no community without people and sometimes it is hard to calculate with them.
It is difficult to foresee how many people we are going to reach with the Student Hub and its social media pages and how many of the students will attend our events. At the same time, I am grateful for the opportunity that I have been given. As I see it is a great challenge in which I can improve my leadership and organisational skills. Furthermore, I will have way more chances to meet international students, which is always a pleasure for me. It is a goal of mine to leave the University with some improvements. It would be nice to leave an operating Student Hub behind and a community that is still improving day by day.
PB: You mentioned that you are in your last year at the university. What are your plans after graduation?
ÁKV: I feel that this question is one of the hardest ones to answer as a student. I have quite a few plans. I would like to take a year off before going for my masters and my goal is to join the Hungarian Armed Forces mostly because, in the future, I want to be a peacekeeper. I have always been interested in the military. I really admire the work of the UN's peacekeepers and the things they do.
My gap year would be a great opportunity to get a taste of their work and then eventually find my place in defence politics.
I would also continue my studies in that field. My ultimate dream would be to become a conflict manager. In the field of conflict management, the work is very interesting, has a lot of layers, and fits perfectly with my morals. Mostly because I find these people the best to resolve a conflict that could potentially lead to war, moreover their job is to make decisions keeping in mind the best humanitarian interest.
Translated by: Cintia Bali, Ádám Kibédi-Varga